August 19, 2022

ADC Online

0
The idea of CRM System in Kenya is still a developing concept in Africa, especially for small and medium-sized businesses. Businesses often face the challenge of focusing on customers and staff at the same time.
As a result, small businesses have a hard time channelling expenses to leads that generate value.
While CRM tools help coordinate both, the price of an on-premise solution is often overbearing for small businesses. For instance, on-premise interventions require a client to set up a server as well as recruit staff for maintenance. This is not financially feasible for many small businesses.
However, cloud-based solutions offer the same convenience such as the ability to maintain strong customer relationships and coordinate staff towards converting leads at an affordable cost.
Cloud-based CRM System in Kenya services host the client's data on the cloud, allowing access through an app or software. Besides, Cloud-based services are cheaper since the provider shoulders the cost of hardware, power, and cooling. This allows them to charge clients for the software and updates only.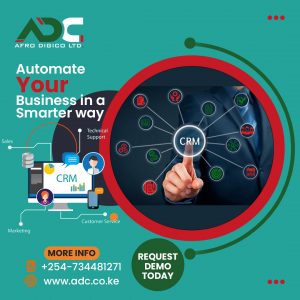 Why CRM System in Kenya for a Business?
CRM software helps businesses boost sales, increase productivity and sift through customer prospects.
SMEs in Africa can integrate CRM solutions with other operations, allowing them to understand their customers better by collecting insights and drawing relationships on consumer behaviour.
As a result, businesses make data-driven decisions on how to allocate resources among leads and assess progress in lead conversion. Companies can also personalize interactions with customers, catering for individual needs, therefore, increasing chances of conversion.
Standard CRM features include a secure cloud to store customer data, tools that record customer interactions and analysis of lead conversion rates. However, recent CRM solutions offer customizable systems, allowing a business to feature its unique characteristics in the tool.
African businesses can opt for freemium tools which allow a business to track sales and financial operations, as well as monitor pending tasks.
A number of companies offer CRM tools that allow access to limited features such as automated marketing, sales management and task monitoring for a set number of users. However, a business should consider upgrading to a premium CRM solution to access the full advantages of CRM tools.
Contact For More Information Afro Digico Limited.